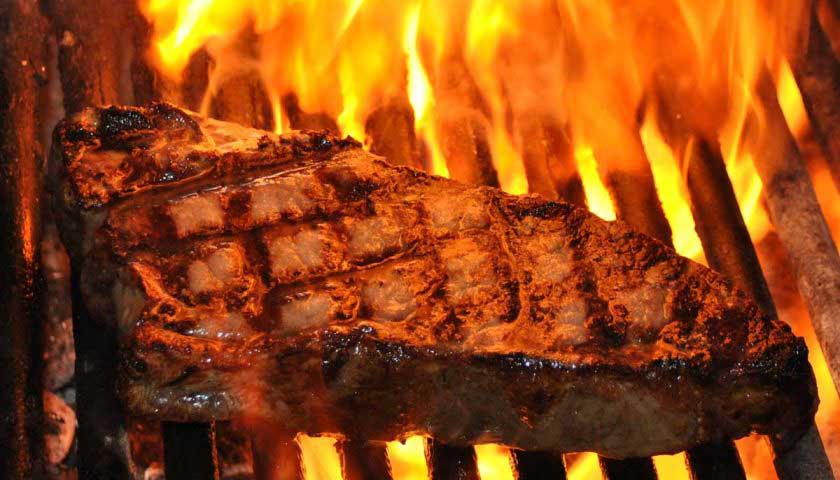 Chef Ray's Tips for Summer Grilling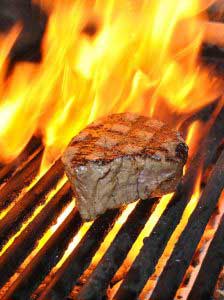 When Chef is enjoying a rare day off with his family, he's often cooking with his son Alex who is almost 7 years old. At home some of the favorite dishes prepared for Ray's family include, Stuffed Cabbage, Hamburgers & Steaks. While they enjoy eating out, red meat is typically enjoyed at home.
As we all prepare our decks and porches for the summer, drag the grill out of the garage and look for the long tongs and grill brush we thought you might like to hear Ray's go-to list for grilling at home.
No need to rush out and buy a fancy charcoal grill; like most of us, Ray uses a propane grill at home. When it comes to shopping for his steaks, he does frequent a local butcher in Cleveland where he lives. Fresh cut that day is best, well marbled and aged for the best flavor. New York Strips and Ribeye's are his favorite cuts to grill; the fat in the meat brings a lot to the taste.
Starting with the grill on a high heat for a quick sear, A properly heated grill sears foods on contact, keeps the insides moist and helps prevent sticking. While searing doesn't "seal in" the juices (contrary to popular belief ), it does create improved flavors through caramelization.
When Ray is cooking steaks at home a perfect Mid-Rare would be 4 turns of approximately 3 minutes each side down on the grill.
The one common mistake made by most at home grill dads is to put the lid down on the grill. This allows the grill to get too hot and will overcook and burn the meat.
Any meat coming from the grill should have a "rest period" of approximately 5 minutes before being enjoyed.
Reduce sticking by oiling your hot grill rack with a vegetable oil-soaked paper towel: hold it with tongs and rub it over the rack. (Do not use cooking spray on a hot grill.)
When asked about Chicken or Seafood on the grill Chef Ray said that at home he will use a can of pam spray to make sure nothing sticks to the grates. (Even though it is not advised) keep a squirt bottle of water near the grill to quickly douse any unexpected flare-ups.
Always season your protein at the end of the cooking as the seasoning will not cook off that way and the seasoning will mix in with the juices.
The truth of the story is that while I was talking to Ray about his at home dinning and grilling tips he just kept saying to me, "Come on Lynsey, just tell them to come to Timber Lodge and I'll cook the steaks perfect for them"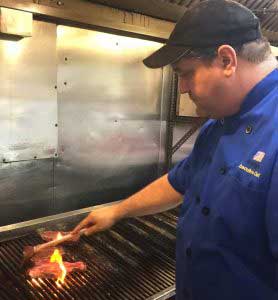 For those of you who have not yet met Ray Gibb our Chef, he'll be grilling on our porch every other Wednesday from June 14th until August 23rd for our Evening on the Porch pairings. In case you were curious it's the Bourbon & Burger night that he's looking forward to the most, Jack Daniels is his best friend.